In 't Spinnekopke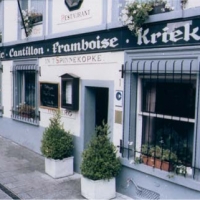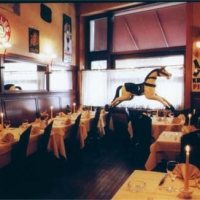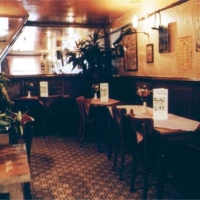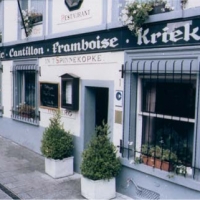 Address : Place Jardin Aux Fleurs 1, 1000 Brussels
Phone : 02 511 86 95 en gsm 0475 24 63 37
Fax : 02 513 24 97
Cuisine : Brussels
Closing days :
Welcome on the internet site of the restaurant "In 't Spinnekopke".
It is with a great pleasure we invite you as first to discover these freshly prepared pages. Deeply thought, they intend to convince you to exceed the doorstep of this small world of typical Brussels' atmosphere. And we do not doubt whether they will succeed in their goal.
The story tells you, you should know that several residences in the centre of Brussels have an atypical past, even hidden in the darkness of their records.
That is certainly the case for this huge house which dates from the XVIII century. Localised on "Square Bloemenhof", is her façade where Miss Spinnekopke hides, filled with history. We are looking forward to explaining you the meaning of the origin of the name of this small, figural speaking signboard.
To avoid deviating from tradition, we need to give you a small flashback.
The restaurant used to have the name the "Pikehondje"; several men wondered why the name of the restaurant had changed so sudden.
Everything passed over: stolen dog (market for stolen dogs), Spillonx ( a certain pedigree dog) or a simple corruption of the original name "In' t Spinnekopke". If closing time would not have interrupted them, several scholars from the square would still be discussing and reasoning.
Nevertheless, even more than its name, it is the unique framework which attracts you the most. It transforms couple of hours at the rustic tables of the tavern into magical memories.
Everything here invites you to discover this warmly tavern. Wainscot and wooden banks, old beer advertisements at the walls or more, waiters with long white aprons; so many small things which make this tavern 'the place to be'.
And if the atmosphere is not sufficient, then the smelling taste and the originality of the meals will do convince you to enter the tavern "In' t Spinnekopke".

Detailed map
Look at the footpaths and cycling routes in the vicinity.
In 't Spinnekopke
Recent comments (0)
Your experience with In 't Spinnekopke? Your opinion