Malesherbes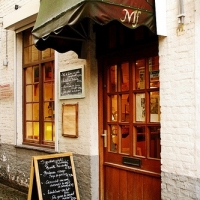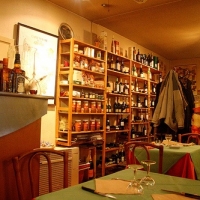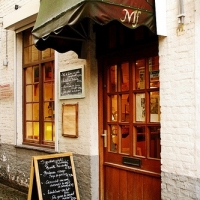 Address : Stoofstraat 3-5, 8000 Bruges
Phone : 050 33 69 24 en gsm 0477 74 14 13
Fax : 050 33 69 24
Cuisine : French
Closing days : Monday, Tuesday
Detailed map
Look at the footpaths and cycling routes in the vicinity.
Malesherbes
Recent comments (2)
Your experience with Malesherbes? Your opinion
Peter De Becker
'Nabij het hartje van Brugge, bijna in de schaduw van de Onze Lieve Vrouwekerk, in het volgens menig gids smalste straatje van het Venetie van het Noorden vinden we Malesherbes. Een gezellig restaurantje gerund door goedlachse mooie vrouwen.... Een plaats waar het heerlijk toeven is. Een Frans/Belgische keuken wordt er op vaak origineel samengestelde borden gepresenteerd. Er is de vaste kaart met daarnaast wekelijks veranderende suggesties. Telkens twee nieuwe voorgerechten en twee nieuwe hoofdgerechten. De sfeer is er uniek, zowat iedereen blijkt er zich al snel thuis te voelen. Toeristen of Bruggelingen maken er een gezellig allegaartje van. Ik eet er altijd lekker, mijn favoriet is de warme ganzenlever met appeltjes. Maar ook de vis of het vlees uit de wekelijkse suggesties zijn altijd van hoogstaande kwaliteit en steeds met een sausje om je vingers af te likken... Voor de liefhebbers: heel stil en discreet op de achtergrond is leuke muziek te horen. Wie in Brugge is, van lekker eten houdt en aangenaam wil tafelen moet zeker Malesherbes eens aandoen. Een topper en voor mij een driesterren restaurant: één ster in de keuken en twee in de zaal...'
Kristel Van Loocke
Zeer gezellig restaurantje! vlotte en aangename bediening. Zeker een aanrader.